The Planty is a huge urban park with a total area of ​​approximately 21 hectares, which tightly surrounds the Old Town in a belt more than 4 km long.Anyone who's head to the Market Square or one of the surrounding streets has to cross the Planty.Although it seems that the Planty must always have been here, they were built in the 1820s.
Previously the neglected defensive walls, embankments, and moat stretched out, the remains of a fortification system which no longer had any sense, and had fallen into disrepair and been partially demolished.The marshy terrain, full of rats and refuse was also a sewage outlet.It was a neglected and dangerous place.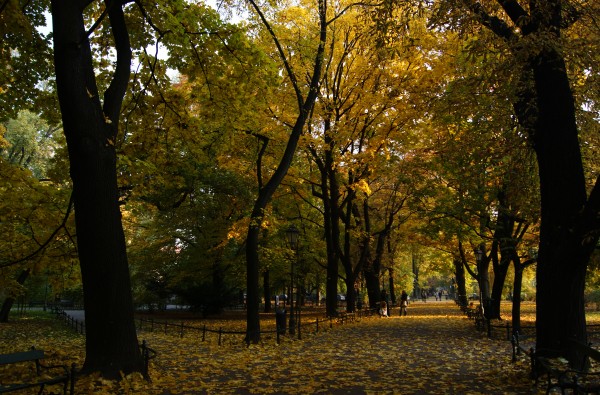 Trees and shrubs were planted (dominated by chestnut, maple, linden, poplar, ash) and over time kiosks, pavilions, and numerous monuments arrived.Also with time part of the fortifications was restored, including the Barbican.Originally, the Planty were divided into nine circuits, which were tended by nine Planty gardeners.This division and functions survived to the mid-20th century.
During the Second World War, Germany seriously destroyed the Planty, removing all metal elements (parts of pavilions, balustrades) for war purposes and cutting down part of the vegetation.
After the war, and in fact during the whole communist period the Planty were neglected and only just kept alive.It was only in 1989 that their revitalisation began, in a project by Professor Janusz Bogdanowski, in the spirit of how they looked in their most glorious period, that is, just before the war.During several years of renovation, stylish lamps, fences, and benches were restored, the greenery was cleaned up, and the outlines of the former perimeter walls and the locations of the towers were marked.
Today a walk in the Planty is a great pleasure.Residents don't need to be recommended this.When it comes to tourists visiting us, it's a good idea to weave a walk through the Planty into the tour of the Market Square and adjacent streets, and also visit the Bunkier Cafe and the Bunkier Sztuki Gallery of Contemporary Art.